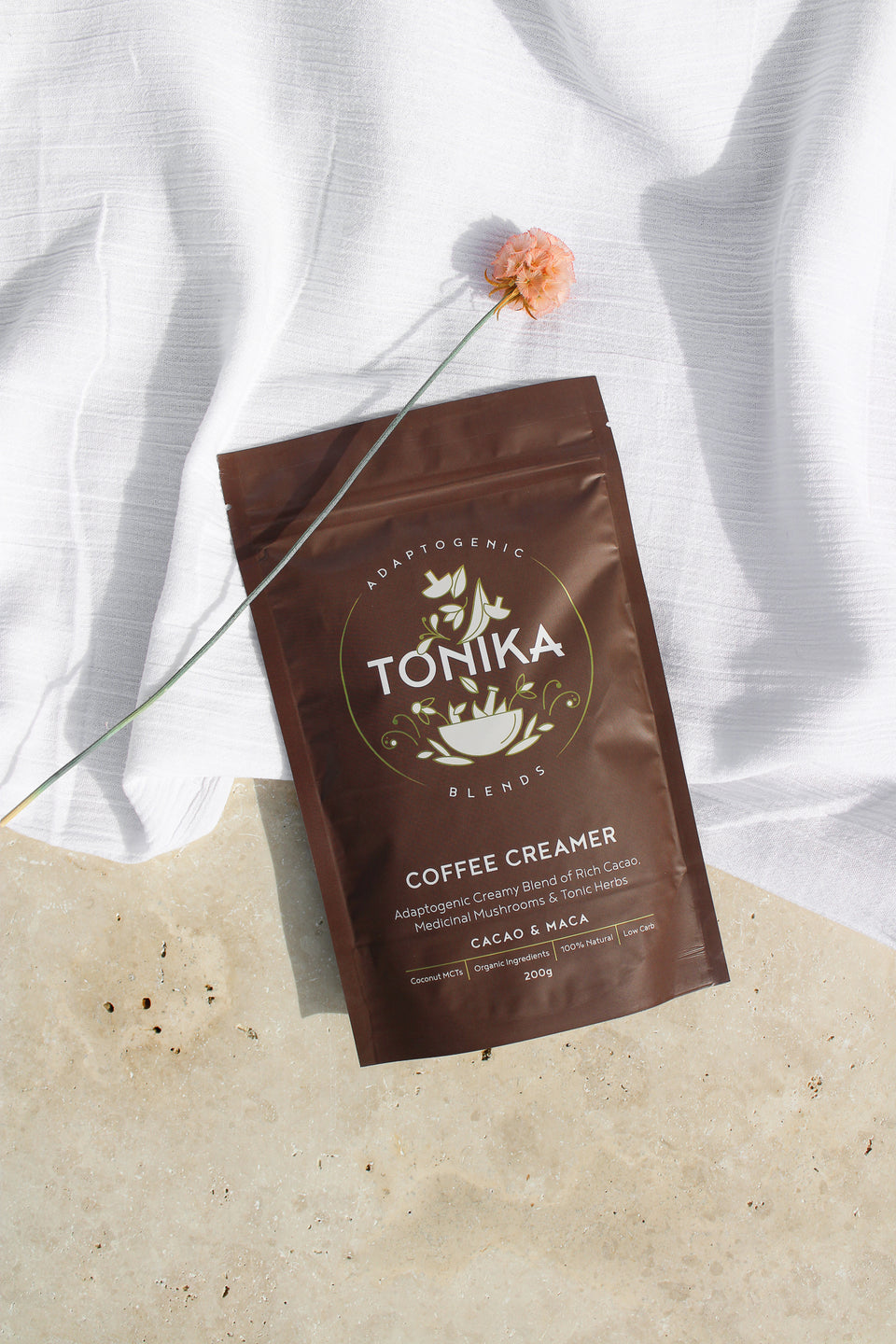 Cacao & Maca (CALM) Adaptogenic Coffee Creamer
TCCCM
Our Cacao and Maca adaptogenic coffee creamer combines coconut MCT's and organic cacao powder with the highest quality organic maca powder to create an irresistibly rich chocolate flavour, with a hint of sweetness. A perfect addition to your morning coffee or hot chocolate.

Functional Foods and nutrient dense ingredients provide essential nutrients including fibre, vitamins C, E, B1, B3, B5 and B6 and minerals including iron, selenium, sodium, calcium, magnesium and phosphorous.
Our Adaptogenic Coffee Creamers are very low in carbs and sugar, we use a little non GMO Xylitol and monk fruit to give it a little sweetness. Made with 100% natural ingredients, vegan and keto friendly.
You can read more about the benefits of our Cacao and Maca Coffee Adaptogenic Coffee Creamer in our blog.

Nutritional Information
Serving Suggestion
Ingredients: Coconut Milk Powder, Coconut MCT Oil Powder, Organic Cacao Powder, Alkalised Cacao Powder, Natural Flavours, Sweetener (Monk Fruit, Xylitol), Organic Maca Powder, Organic Ashwaganda, Organic Reishi Mushroom, Organic Chaga Mushroom, Sunflower Lecithin Extract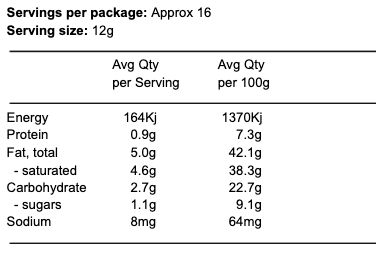 Stir 2 heaped teaspoons into your favourite hot drink, water or smoothie. For best and frothy results add all ingredients to a blender, blend, pour and enjoy!
Ingredients
Maca Root
MCT Oil Powder
Chaga
Ashwagandha
Reishi
MCT's are fast-acting fatty acids.
Made from 100% coconuts, and consists of caprylic (C8) and capric (C10). Our coffee creamer contains our 5g MCTs per serve.
Reviews
Cacao & Maca (CALM) Adaptogenic Coffee Creamer
Love this, so glad it came back in stock. I have it with my ceremonial cacao as part of my gratitude practice every morning. I love the taste.
Cannot love without this!
Amazing product, I have it in my coffee and also as a hot chocolate with some warm milk at night. Favourite product!
Amazing taste
I love the taste. The powder is good in coffee or just as a stand alone warm cacao drink.
Favourite drink
Absolutely love the tonika cacao n Macca creamer! I have at night with a little dash of pure maple syrup n warmed oat milk. It's delicious ♡