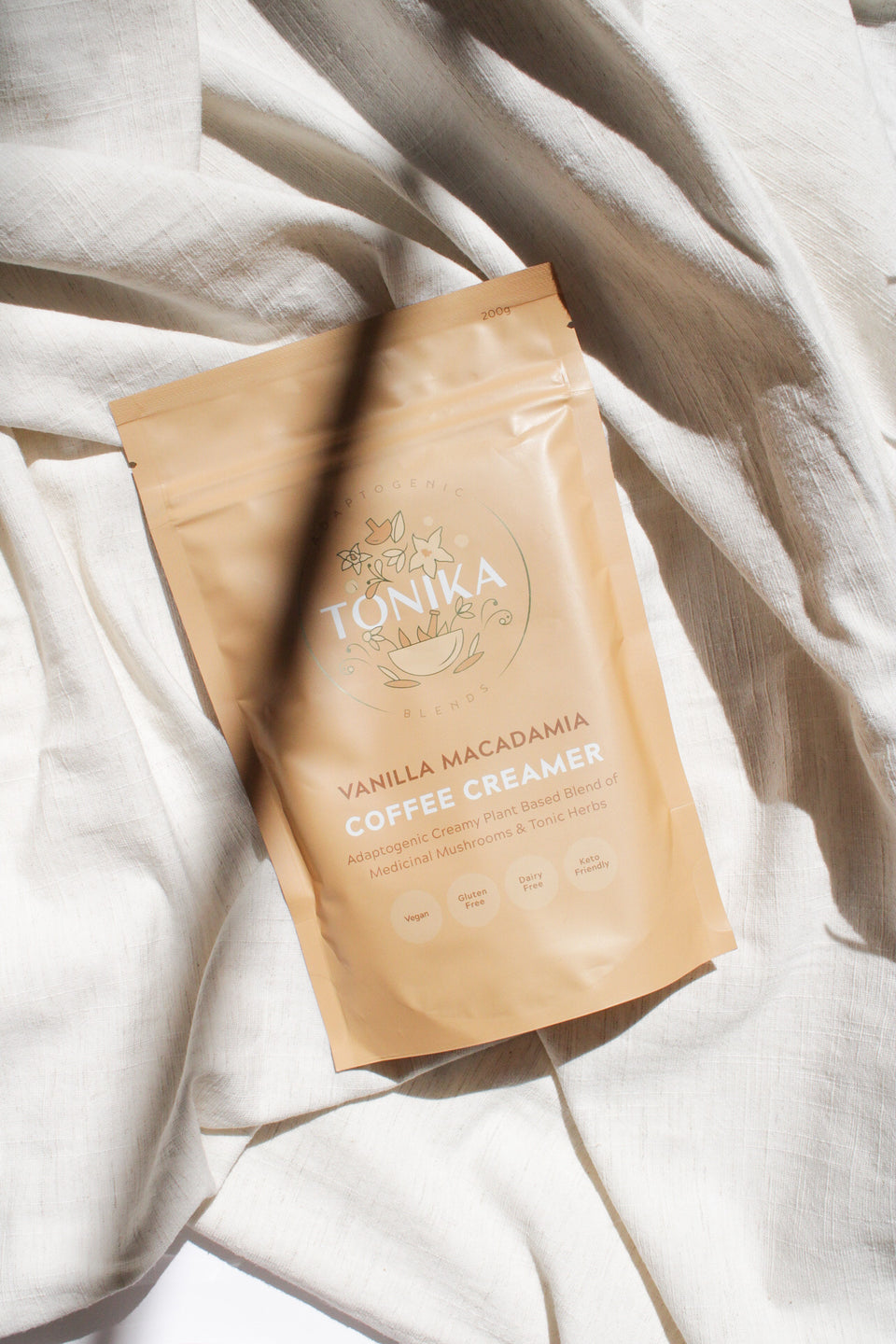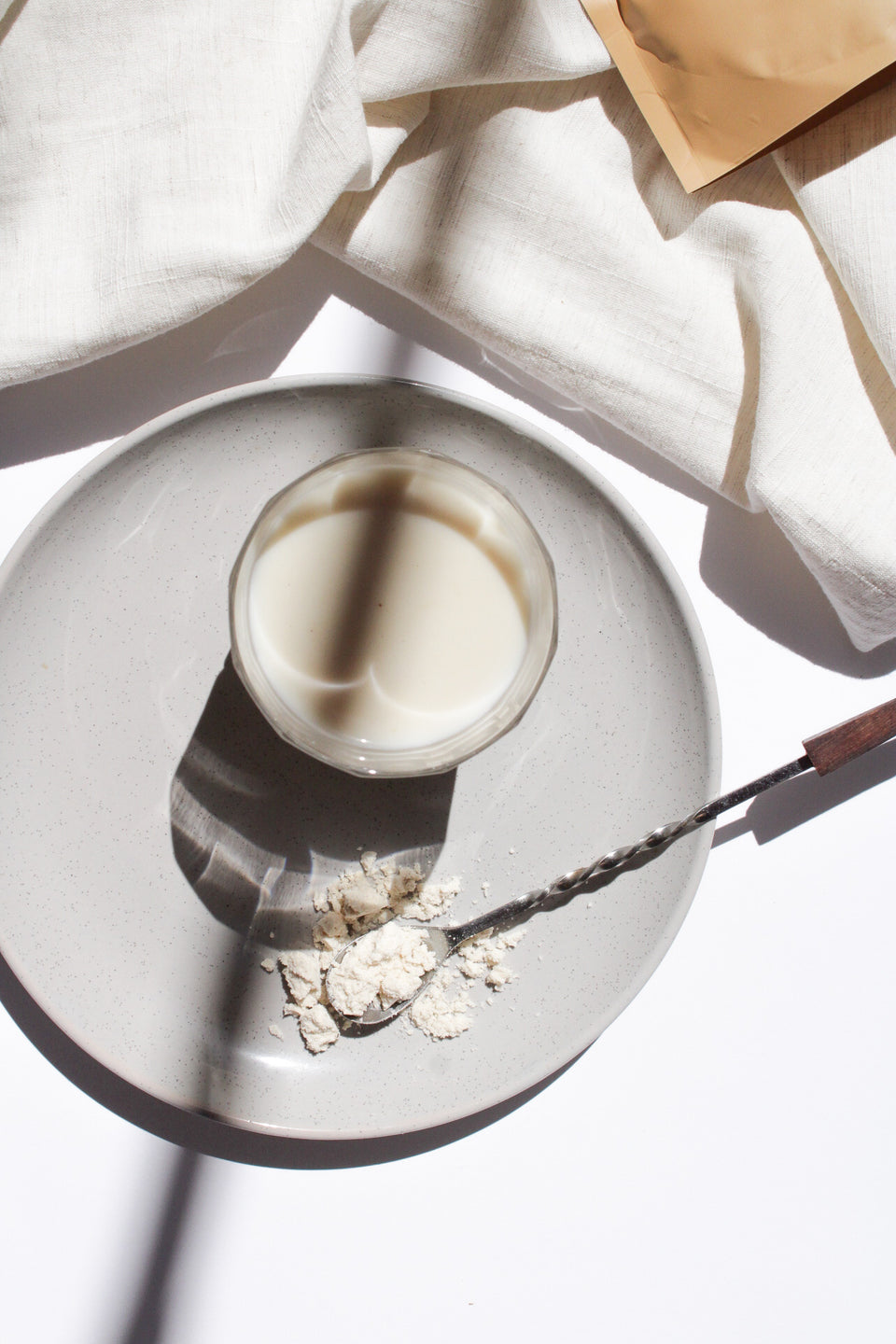 Vanilla Macadamia Adaptogenic BEAUTY Creamer
TCCVM
Our Vanilla Macadamia Adaptogenic Coffee Creamer combines coconut MCTs and ground up vanilla beans with the highest quality organic macadamia oil powder to create an addictively delicious creamer, with a hint of sweetness. 

Functional mushrooms along with tonic herbs and nutrient-dense ingredients may provide essential nutrients including fiber, vitamins C, E, B1, B3, B5, B6, and minerals including iron, selenium, sodium, calcium, magnesium, and phosphorous.
Our creamers are very low in carbs and sugar, we use a little non-GMO Xylitol and monk fruit to give it a little sweetness. Made with 100% natural ingredients, vegan and keto-friendly.
You can read more about the benefits of our Vanilla Macadamia Coffee Creamer in our blog.

Nutritional Information
Serving Suggestion
Ingredients: Coconut MCT Oil Powder (Medium Chain Triglycerides, Acacia Fibre), Coconut Milk Powder, Natural Flavours, Tremella Mushroom Extract, Organic Maca, Organic Lions Mane Mushroom, Sweetener (Monk Fruit, Xylitol), Organic Lucuma, Macadamia Oil Powder, Hyaluronic Acid, Sunflower Lecithin, Ground Vanilla Bean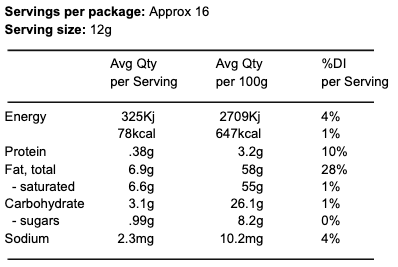 Place 2 heaped teaspoons into your cup before adding your hot drink, water or smoothie liquid. For best and frothy results add all ingredients to a blender, blend, pour and enjoy!
Ingredients
Lion's Mane
MCT Oil Powder
Tremella Mushroom
Hyaluronic Acid
Lucuma
Maca Root
MCT's are fast-acting fatty acids.
Made from 100% coconuts, and consists of caprylic (C8) and capric (C10). Our coffee creamer contains our 5g MCTs per serve.
Reviews
Great taste which blends nicely with my chai or matcha latte. I have even tried it on it's own and it doesn't disappoint!
What attracted me to this product was the herbs and adaptogens which I'm looking forward to reaping the benefits from with future use.
My new Fav!
This is my second packet. I absolutely love the flavor!
Beautiful flavour
This creamer is so amazing. I've tried the other flavours but keep coming back to this one. It's the perfect start to the day and just feels a little indulgent, but so so yum! Not to mention all the health benefits too, it is super tasty and goes perfectly with black coffee - the hint of vanilla is divine. You won't be disappointed 😍
Flavour Doesn't Disappoint.
I've been using the Tonika in Cacao flavour for a few years and loved it. Brings my morning coffee to a whole new level. I recently purchased the 3 pack (One of each Cacao, Vanilla and Honeycomb ) I then fell in love with the Vanilla Macadamia. there is just a hint of Vanilla but it's pleasantly creamy as well. My latest purchase was 3 bags of the Vanilla - Delicious.
Delicious
This creamer is so delicious I can't have my coffee without it. Not only does it taste great and keeps me going after 2 years of not having a period it has started to come back.