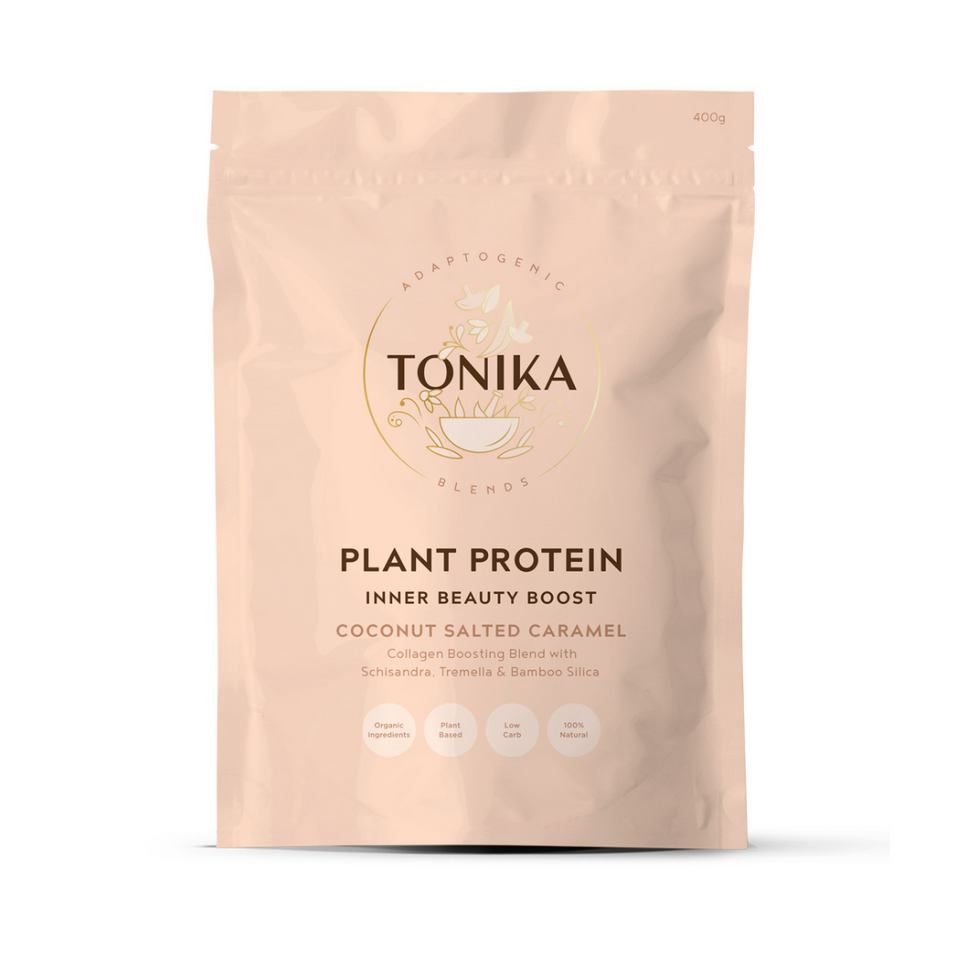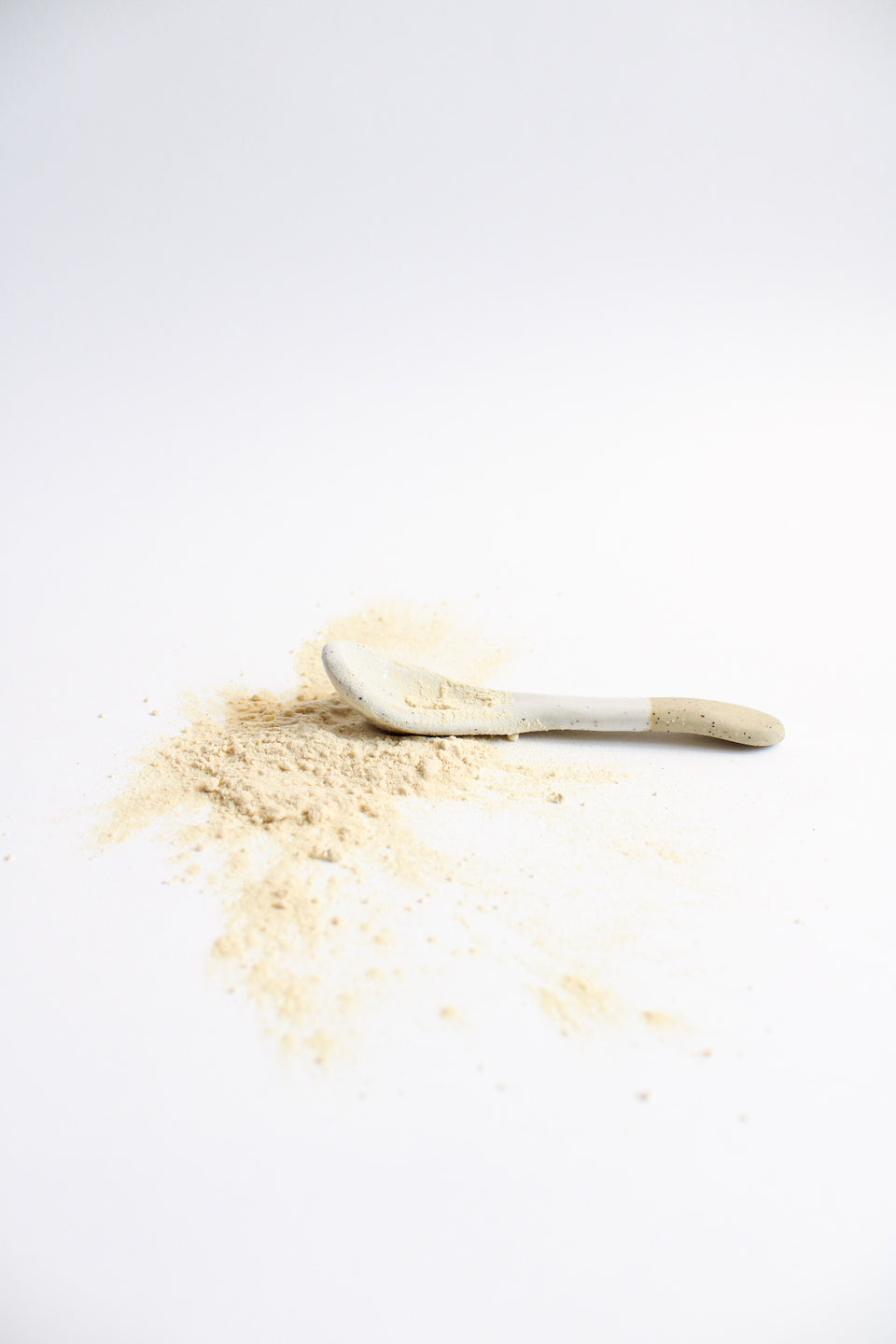 Plant Protein Powder - Coconut Salted Caramel - INNER BEAUTY BOOST
TPPCSC
Our collagen boosting plant protein combines sprouted and fermented pea protein with a powerhouse of anti ageing adaptogens, beautifying medicinal mushrooms and probiotics with digestive enzymes for a healthy gut microbiome.

Our coconut salted caramel protein will have you drooling from the moment you tear open the bag. It has beautiful caramel notes with a hint of sweetness derived from monk fruit.
With added bamboo silica, camu camu, schisandra, and tremella mushroom our protein powder is formulated to promote collagen production and enhance skin hydration for a glowing radiant healthy complexion. 
Our plant protein powders are vegan, keto friendly, gluten free, low in carbs and sugar and made with 100% natural ingredients.
Nutritional Information
Serving Suggestion
Ingredients: Certified Organic Sprouted and Fermented Pea Protein, Coconut Milk Powder, Natural Caramel Flavour, Organic Camu Camu Powder, Monk Fruit Juice Powder, Tremella Mushroom Extract, Schisandra Extract, Bamboo Silica, Guar Gum, Sunflower Lecithin, Himilayan Salt, Digestive Enzymes (Protease, Amylase, Cellulase, Lactase, Lipase), Probiotic (Bacillus Coagulans)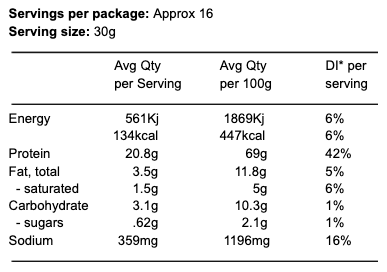 Add 2 heaped tablespoons to water, almond milk or smoothies. Also amazing in baking, cereals, porridge, and protein balls.
Ingredients
Schisandra
Tremella
Camu Camu
Bamboo Silica
Probiotics + Digestive Enzymes
Sprouted + Fermented Pea Protein
Camu Camu is a sour berry, similar to cherry in colour, native to the Amazon rainforest. It is a mandatory co-factor in collagen synthesis due to its high vitamin C levels.
Gut problems seem to be a common issue in today's society. Which is one of the reasons why we have added digestive enzymes and probiotics to our protein powders, to promote healthy digestion and a healthy happy gut microbiome.
Digestive enzymes optimise the breakdown of fats, carbohydrates and proteins. They promote optimal nutrient absorption and help to digest difficult-to-digest foods reducing gas, bloating, indigestion, and constipation.
Organic Pea Protein Isolate has a subtle, sweet flavour and light texture.
Pea protein is a high-quality protein and a great source of iron. It can aid muscle growth, weight loss and heart health.
It's made from Certified Organic Golden peas, which are soaked for 20 hours, activating the natural sprouting process, before they are wet milled and fermented to remove the starch.
Reviews
Excellent Product
I can really see the benefits from this product. My nails, skin and hair have really improved.
Best protein ever
I've had many plant proteins but Tonika take the cake. This is not only insanely tasty but it's gentle in my stomach and mixes well with smoothies, on its own with coconut water or in baking.
The best!
So yummy
Love this protein powder for my morning smoothie. Mixes well with fruit and greens powder. Highly recommend.
The best!!!
My favourite protein! So full of goodness and easy on the digestive system. Also AMAZING customer service!
Awesome
Super tasty … and skin is benefitting from the ingredients. Win win … will be back for more. ThankYOU