Honeycomb Vitality Coffee Creamer
0746160773834
Our Honeycomb Adaptogenic Coffee Creamer combines coconut MCTs and organic turmeric with the highest quality organic mesquite powder to create a vegan honeycomb creamer, with a hint of sweetness. Add to your morning coffee or latte.
Functional mushrooms along with tonic herbs and nutrient-dense ingredients provide essential nutrients including fiber, vitamins C, E, B1, B3, B5, and B6, and minerals including iron, selenium, sodium, and calcium, magnesium, and phosphorous.
Our creamers are very low in carbs and sugar, we use a little non-GMO Xylitol and monk fruit to give it a little sweetness. Made with 100% natural ingredients, vegan and keto-friendly.
You can read more about the benefits of our Honeycomb Creamer in our blog.
Nutritional Information
Serving Suggestion
Ingredients: Coconut MCT Oil Powder (Medium Chain Triglycerides, Acacia Fibre), Coconut Milk Powder, Natural Flavours, Siberian Ginseng Extract, Organic Cordyceps Mushroom, Organic Lion's Mane Mushroom, L-theanine, Organic Mesquite, Organic Turmeric, Sweetener (Monk Fruit, Xylitol), Black Pepper, Sunflower Lecithin Extract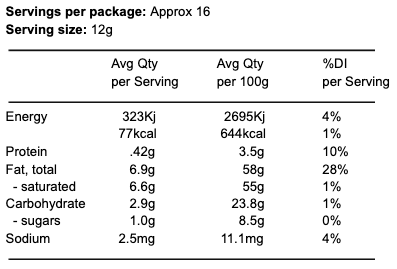 Place 2 heaped teaspoons into your cup before adding your hot drink, water or smoothie liquid. For best and frothy results add all ingredients to a blender, blend, pour and enjoy!
Ingredients
Cordyceps (Panax Quinquefolius L.)
MCT Oil Powder
Mesquite Powder
Siberian Ginseng
Turmeric
L-Theanine
MCT's are fast-acting fatty acids.
Made from 100% coconuts, and consists of caprylic (C8) and capric (C10). Our coffee creamer contains our 5g MCTs per serve.
Reviews
Mojo
Loving my tonika fix in the morning
Gets me focused, energised and full of life!!
Amazing and so tasty
Hi absolutely love this product. I mix it with some of the Tonika lions mane and put it in my coffee for a delicious blend.
Have also made chia pudding with it too.
Can't get enough of it.
My fav coffee creamer
Honeycomb coffee creamer the best part of my daily routine. I add it to my morning coffee for a delicious flavour boost and with all the health benefits you can't go wrong.
Morning energy
I use the powder in my morning coffee and it starts my day off great!
Like a Turmeric Latte but BETTER!
Oh my goodness, this is my new favourite! I know this can be mixed with coffee but I love it on its own as well. I do gravitate towards Turmeric Lattes but usually they taste a bit too 'earthy' for me. This is next level. The honeycomb flavour gives it a slightly sweeter taste... without being too sweet. Add in the nutritional benefits of the adaptogens, medicinal mushrooms and tonic herbs - amazing!